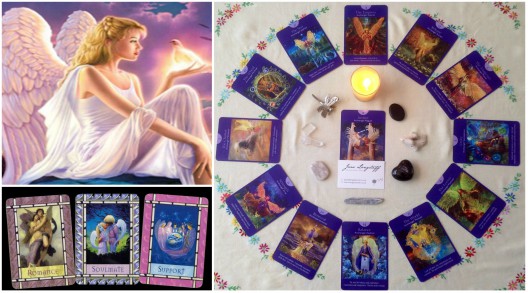 Clairvoyant Tarot Readings
New lower prices!
Tarot Reading £55 - 40 mins Order  or £75 - 60 mins Order
Follow-up question (within 1 month of a main reading) £5 / 5 minutes Order
Cyprus Special local introductory rates for Cyprus offer ends 30 April 2017 See more
About Tarot Readings

Your recorded reading will be a minimum of 40 minutes long and a maximum of 60.
Tarot cards are an ancient tool of scrying and 'fortune telling' which go back so far in history that no-one really knows where they began.
They hold much potent and symbolic imagery within their pictures and are used by a clairvoyant to focus the thoughts more clearly and definitely on issues surrounding the client.
If you want to cover a wide range of subjects with your reading - receive detailed guidance about yourself, your life-path, your work, present, future, past, destiny, relationships, etc. then this is probably the reading for you. Be warned, however, this reading is much more like looking into a mirror of absolute truth and honesty about yourself, and whilst it is supportive and loving in intent, it will 'tell it as it is'. If you prefer to be gently nurtured with your information and guidance, I might suggest choosing an angel reading instead.
If you just want some straight talking to help you to get on with your life and shift what needs changing, own what needs to be claimed and motivate what needs be acted upon, then this is just the reading you need.
If you are hesitant about having a Tarot reading
Some people are 'wary' of the tarot and see it as negative. As with any tool, it can indeed be misused in the wrong or inexperienced hands.
All readings on this website are done with the clearest and most positive intent. Love and Truth and nothing less. This means that only good can come of your reading. It will not influence you but rather it will inspire you and help you to gain a clean and clear perspective from which to approach your life afresh. Used wisely in this way the cards bring only healing, colour, clarity and added zest to a session.
Receiving your Tarot reading
Readings are recorded and can be listened to on any device, or downloaded as an audio mp3 file. You will receive a link to your recording by email.
Watchword:
Please remember that YOU have complete control over your own life. It is your life to live and enjoy. Readings simply give you guidance so that you can see all the options available to you and thereby make your best decisions. Readings also invite you to take a fresh perspective on your life - potentially a whole new approach. Nothing is totally predestined - if you do not like something you can change it for the better and this work helps you understand how and then to find the courage to take the necessary steps. With a positive and determined attitude you may be amazed at what you can achieve.
In accordance with UK Law we must state that all readings are for entertainment purposes only and no guarantee can be given as to the accuracy or suitability of a reading for any purpose.